This February, Lara delivered her 7th Mining Indaba speech detailing Core Consultants' thoughts on the global energy mix of the future. When discussing global development, a common narrative pervades the media that the use of coal to produce electricity will soon be consigned to history, but, at best, we believe this is premature, and in all likelihood, won't transpire at all.
As much as many developing countries are investing heavily in renewables and natural gas, we note that coal remains a reliable and relatively cheap source of fuel that is likely to play a key role in the growth of numerous industrializing nations.
The South African Chamber of Mines presented a case at the most recent Indaba for coal mining to continue in the country, arguing that coal must feature in the economy for the foreseeable future despite its declining profile and negative impact on the environment.
This is despite the recent CSIR report which showed that it is optimal for South Africa to use more renewable energy and avoid coal and nuclear, with potential savings running into the billions of rands.
Fast-growing emerging markets are indeed usurping traditional centres of demand. The global energy mix is in a state of flux and coal demand is falling sharply, largely driven by China shifting towards renewables, and to a lesser extent by other OECD nations doing the very same.
Technological improvements, climate policies and rapid improvements in the competitiveness of renewable energy has made it possible that renewables, plus hydro and nuclear power, could actually meet around 50% of global energy demand by 2035.
While this does give the general impression that coal is on the way out, a number of factors will prevent it from being dropped from the roster entirely. In this piece, we consider China's political contribution to the change in global coal consumption patterns and look at the potential for nuclear to fill some of the remaining gap.
As well, future demand growth will be dominated by developing economies, and we expect that Africa could be a game changer in terms of global energy consumption and generation, and its patterns and potential future energy mix will be considered below.
China
As a behemoth, China's energy-related decisions dwarf the activity of all other nations. The most important global warming story over the past four years or so has arguably been China's struggle to suppress its once insatiable appetite for coal.
In 2013, coal consumption in China was as much as the rest of the world combined and this trend was expected to continue unabated. Since 2013, however, we have noted significant changes in China's coal consumption trends with coal beginning to peak and flatline around 2013, with physical tonnes falling by 3.9% in 2014, and another 3.7% in 2015 before stabilizing in 2017.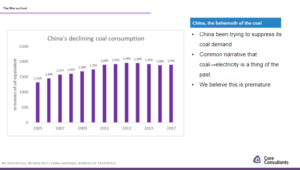 In 2016, the National Bureau of Statistics revealed that while China's total energy consumption increased by 1.4%, the share of coal as a proportion of China's total energy consumption fell 2 percent to 62%.
Add to this that in 2016, China implemented the 13th Five Year Plan which aims to limit China's coal consumption to a maximum of 58% of energy supply by 2020, a decrease of 6% from its 64% share in 2015. The plan also vows to raise the proportion of renewable and non-fossil fuel consumption to 15% by 2020 and 30% by 2030.
This is the first time that China has set a mandatory target for decreasing the share of coal in its total energy consumption. Only five targets in China's energy plan are mandatory, suggesting that policymakers view this as an imperative and will be enacting policies and measures to achieve this target. Already, consumption fell to 62% in 2016, and this decline is expected to have continued to around 60% for 2017.

China pledged to get up to 20% of its energy requirements from low carbon sources by 2030 as part of the Paris Climate Deal. As such, the government is planning to install an additional 130 GW of wind and solar energy by 2020 and is making significant investment in the nuclear power space.
Under the current Five Year Plan, in January 2017, China gave the order to 13 Provinces to cancel 104 coal-fired projects in development, 47 of which were under construction, equal to 120 GW of capacity. Moreover, China has around 920 GW of installed coal capacity, and many of these plants are already running at lower than expected capacity. To give some perspective, the total coal capacity of the United States is 350 GW.
There is an important political and socio-economic angle in the curtailment of these coal plants: many thousands of miners will be left out of work (similar to what happened in Britain and Germany, but affecting many more people). Additionally, when policies such as this are enacted too quickly, the state in question risks inciting social unrest.
At the end of 2016, Prime Minister Li Keqiang announced that the central government would need to set aside $15.3bn for areas affected by unemployment while simultaneously promising job growth in other sectors to mitigate the loss of coal miners; however, this is quite an ask.
Finally, the reliability and cost competitiveness of coal-fired power generation, which continues to support China's growth, should not be overlooked; national power demand increased by 7% in 2017, and while hydropower grew 6.2% y.o.y. (to 19.7% of China's total energy generation), in 2017, it has been unable to achieve its previous levels of growth and output actually fell 2%.
Together, coal and hydro account for 88% of China's electricity supply and coal-fired power plants have been called upon to increase electricity generation. We, therefore, expect that China's reliance on coal will slowly erode, but not entirely.
While renewables have become relatively cheaper than Chinese coal production, in the absence of a carbon tax, we note that coal still fares well. This, combined with its reliability and relative abundance, should cement its place in China as a key fuel source for a few more decades at least.
What About Uranium?

I've been a fan of uranium stocks since I started as an analyst in 2006. At the time, China had just introduced its 11th Five Year Plan, one target of which was to promote nuclear and everything about uranium seemed pink.
Of course, uranium prices did rise during this time only to be caught out by the financial crisis, and just as everyone was convinced it would recover along with other commodities, along came the Fukushima disaster of 2011.
Japan's nuclear power regulators recently gave the Tokyo Electric Power Co. official permission to restart two of its nuclear reactors on the Sea of Japan coast which have been idle for the better part of ten years. The utility plans to return both units 3 and 4 at the plant to commercial operation by mid-2018, which could provide a much-needed kickstart for the market.
Around 20 of the 60 reactors currently under construction worldwide are as part of China's 13th Five Year Plan. In particular, the current plan calls for around 58 GWe of nuclear capacity to be operational by 2020, up from the current capacity of 27 GWe.
As we can see below, the success of uranium investments over the past 70 years or so has largely depended on nothing more than timing.
In 2017, low prices prompted a number of suppliers to take capacity offline. Kazatamprom pledged to knock-off 2,000 tonnes from its uranium output at the beginning of last year, which did give the price an albeit short-lived boost.
However, the Kazatamprom move has sparked cuts from other companies. Cameco announced its plans to suspend production at its McArthur River mine by the end of January 2018, and Key Lake revealed it would reduce output by 20% over the next three years.
So while utility companies are holding out for better prices, they could actually be contracting into a deficit market rather than a surplus market. Currently, around one-third of uranium consumers are not under contract for material until 2020, but supply could very quickly be brought back online and prices could again turn south.
In the East especially, we see that uncovered, or uncontracted, uranium demand is set to rise from 4.1m pounds in 2017 to around 54.9m pounds in 2020, representing a 29% CAGR and 28-30% of total projected demand (which could increase to around 179m pounds by 2020). While price gains are expected to be moderate in the near term, political tensions do have the potential to cause periods of volatility, and as we have seen, these are hardly rare in the uranium space.
Considering the near-term, there is currently sufficient uranium supply below $40/lb to meet demand to 2020, or even 2025 in the absence of any production cuts; hence, those projects with costs higher than $40/lb will likely be deferred. Beyond 2035, uncovered uranium consumption is expected to rise to around 75m pounds per year, but in general, it appears that uranium is being mined at more than $50/lb.
Africa
As an African consultancy, we are well-placed to consider the contribution that the continent will make to global energy demand, and this largely depends on its future economic development path.
Growth in energy demand is expected to slow towards the end of 2035 as stimulus from both China and India fades, but this projection assumes that Africa will experience relatively slow growth despite being expected to host to a quarter of the world's population by 2050; estimates currently suggest that Africa will account for less than 10% of global energy demand, but we foresee a case in which Africa industrializes much in the same way as India did over the last decade.
Africa's power generation capability is increasing slowly. The continent's energy storage problem is a long way from being resolved, but new power stations are being built with a strong focus on renewables, particularly wind and solar power.
Since the turn of the millennium, sub-Saharan Africa has experienced rapid economic growth and its energy consumption has risen by 45%. Many governments have stepped up their efforts to expand electricity infrastructure, and renewable energy and natural gas are the two main factors set to transform Africa's power prospects.
In fact, South Africa has already expanded its procurement of power from renewable energy. The first contract was awarded in 2012, but more than 90 projects have been approved and many are now feeding power into the South African grid.
In May 2016, South Africa's energy minister indicated that the country was on track to procure 17,800 MW of renewable energy, and by December 2016, all independent power producers were fully operational. The IEA estimates that renewables in Africa will account for almost half of Africa's new power generation between now and 2040.
Gas projects being planned in Nigeria are expected to take decades to be developed at scale, but these, as well as offshore discoveries along the East African coast, could transform national and regional economies.
Ghana is looking to exploit its offshore gas fields; Tanzania is planning to convert its power stations to gas; Mozambique is looking at a liquefied natural gas export industry; South Africa has a nuclear power station in Africa and is currently planning to expand its nuclear fleet.
Coal, however, is abundant and cheap. This has motivated Kenya, Mozambique, South Africa and Botswana to plan and commission new coal-fired power stations, despite the general perception that coal is dying.


In 2016, the previously mentioned CSIR report considered two possible development scenarios for South Africa: one whereby it continues to add additional coal and nuclear capacity, and one in which the mix is optimised to take into account the relatively cheaper costs of solar, wind and renewables.
In the optimized model, by avoiding coal and nuclear, the projected savings were around R87bn by 2040. Given this, we expect that the rest of Africa will almost certainly follow suit should South Africa successfully optimize its energy mix.
The main conclusions we draw from this analysis are that energy demand will continue to rise as the global population expands and more and more people are lifted out of poverty, but efficiency gains in renewable energy, coupled with rising environmental awareness, places coal and nuclear in a precarious position.
It is clear that the future global energy mix will utilize a relatively high proportion of renewables at the expense of traditional energy sources, but the use of coal is not expected to be eliminated from the energy supply chain, or even reduced to anything close to zero.
Additionally, when China changes, everything changes. China's energy plan does aim to increase the proportion of renewables and cap coal demand. The Eastern nation is building the lion's share of new nuclear reactors worldwide, and while the future of nuclear looks bright, we are cognizant of the fact that curtailed capacity could be brought back online fairly easily when required.
While Africa is expected to comprise 25% of the world's population by 2050, current global development projections suggest that its energy demand will only account for 10% of the world's supply, but if Africa industrialises on a similar trajectory to that of India, it is clear then that global energy demand will look drastically different than anticipated; Africa could indeed be the next black swan to rock the energy space.