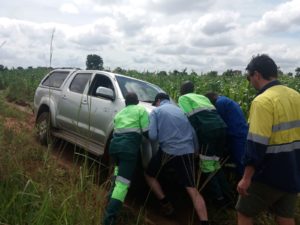 The weekend before the African Mining Indaba in Feb, Core Consultants had the privilege of flying to Malawi for a private tour of Sovereign Metals' (ASX:SVM) ("Sovereign") Malingunde graphite project, and I have to say that, in my opinion, it ranks as one of the better graphite development projects with some compelling investment factors.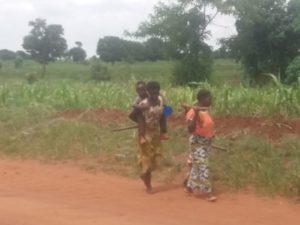 After landing at Lilongwe airport, we drove to the main site, just 20km from the capital. I was pleasantly surprised that the road was paved and in very good condition for our entire journey. In addition, while Malawi is a densely populated country, there were very few people near the site. Relocation is therefore expected to be minimal, reducing the social risk factor considerably. Enviable infrastructure and low population density near the target site are huge bonuses when evaluating a mining project, particularly in Africa.
The Technical Stuff
I'm not a geologist but have evaluated mining projects for more than a decade and so was treated to a detailed view of the territory, geological maps and drill results.
The company has explored an area of over 8,000km2 which has been proven to contain very soft and saprolite-rich graphite-bearing clay. This point is key. Graphite is not particularly rare, so the focus when evaluating a potential graphite investment should not be on the size of the resource, but rather on whether you can extract the graphite economically.
In the case of Sovereign's Malingunde deposit, this is enabled by the soft saprolite material, which makes mining a free dig, and processing does not require crushing or grinding, resulting in low upfront capex requirements and low operating costs. Therefore, on the basis of capex and opex requirements, the project stands out from its peers by a country mile.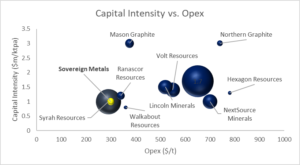 Driving slowly through the path and looking out the window, I could clearly see the blackish graphite at the surface all along the tenement.
The Malingunde deposit, which Sovereign will mine first, is a high-grade, large deposit, spanning an area of 3.4km with a strike length of 200m and 120m wide. Extensive drilling over this strike shows an average saprolite grade of around 8% TGC with a number of higher zones of above 10%, with some areas boasting average grades above 16% TGC.
If we consider these metrics of %TGC and resource tonnes, we note that Sovereign stacks up well against its peers. Overall the project's resource size is 28.8Mt at 7.1% TGC and 8.0Mt at 10% TGC respectively.
Another critical factor, but one which is difficult to rank is the flake size distribution. All things being equal, the higher the proportion of large flakes compared to ultrafine flake graphite, the better the demand profile of the product. In the case of Malingunde, around 47% of their flakes are Super Jumbo and Jumbo, with less than 25% in the small and fines category.
These jumbo flakes are the highest value graphite products, which are primarily used in industrial applications such as refractory and expandable graphite markets used in fireproofing and in general fetch a higher price than the graphite consumed in battery applications.
Indeed, lithium-ion batteries for electric vehicles represent the highest growth sector for graphite demand, but traditional markets still comprise 85% of the total. Sovereign is applying a low risk and rational market strategy by targeting existing industrial markets instead of investing in developing advanced processing for downstream battery products.
Sovereign's high quality, large flake product should attract high demand from existing industries and, while the prospects of supplying the battery industry are by no means excluded, seeking out these markets off the bat is by no means imperative.
The Timeline
Unlike most junior graphite projects, Malingunde's launch is on track to be in full swing by 2020.  
DRA is currently completing Sovereign's pre-feasibility study which is expected to be finalised by the end of quarter 2. Concurrently the team is in offtake negotiations.
The feasibility study and permitting is being scheduled for completion by the end of this year, and once the project finance is in place, commissioning could commence by the end of 2019/ beginning of 2020.
Infrastructure and Logistics
Infrastructure issues plague the African continent, frequently stalling otherwise sound mining projects.
We were fortunate that our site visit coincided with Grindrod's team who were there to evaluate the project's logistics. While Sovereign is still waiting for Grindrod's final analysis, based on our discussions with the consultancy group, we were pleased to hear that the Mitsui and Vale have now signed a MoU with Sovereign to allow them to rail the graphite from Lilongwe to Nacala along the Nacala Rail Corridor.
At present, the rail corridor operates but there is a need for an upgrade to the northern spur of the rail and this upgrade is due to occur this year, ahead of Sovereign's maiden production.  
This leaves the Group with only a short (25km) road trip from the mine site to Kanengo, making the logistics of this project extremely feasible.
Mining in Malawi
Malawi is considered by the World Trade Organisation as one of the most welcoming of foreign direct investment with a constitution that protects investments irrespective of nationality.
Speaking to the Sovereign team, it is clear that Malingunde has the backing of the government that eager to see some diversification of its country, which is largely dependent on agricultural products such as tobacco, maize and sugar.
Perhaps the greatest impediments to doing businesses in Malawi are the concerns that the Mining Act is still in draft (and has been for a few years) and the prospect of "trapped cash". This scenario of trapped cash arises when either there is a lack of liquidity (foreign currency) or in instances of non-compliance with Africa's often overtly confusing financial and legal processes.
Unlike many African nations, the government of Malawi encourages both domestic and foreign investment in most sectors of the economy without too many restrictions with regards to size of investment, ownership, source of funds or the destination of the final product.
With respect to the level of indigenisation required, the Government of Malawi generally requests a 15% equity stake during licensing negotiations for projects above a $250m capex, plus a 5% royalty. With Sovereign, as the capital required is below the threshold, government participation is expected to be zero and only the royalty is payable. When compared to other African nations demanding over 50% indigenisation agreements, with a number of these economies currently revising their tax and royalty arrangements in the face of higher commodity prices, Malawi is a relatively fair country in which to conduct business.
Concluding Remarks
The flake graphite sector is dynamic with several new deposits being explored and attempting to commercialise. Having been to Sovereign's site and having spent time with management, we believe that the Malingunde project is certainly one of the most compelling listed graphite projects today.
The project boasts robust infrastructure, and the new rail development is set to coincide with Sovereign's time schedule for production. The largest drawback for the project, namely the lack of rail transport, is being sorted out as we speak.
Furthermore, the project is amenable to surface mining, has a low capex/opex requirement, reasonable grades and a large resource, with a high proportion of the more desirable jumbo-sized flakes and all located in a jurisdiction that has shown support of both the project and the company.